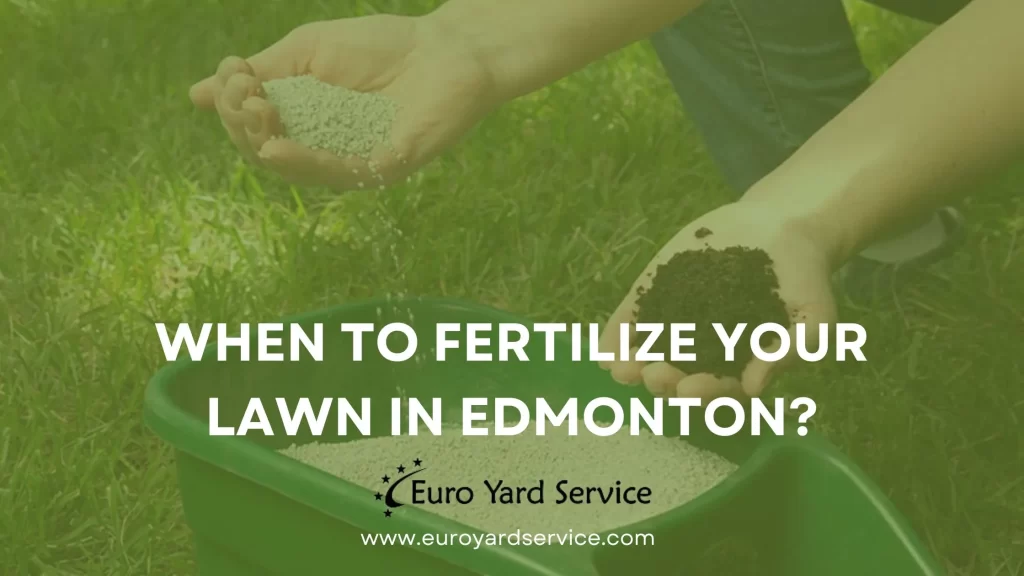 The secret to an even, green, and healthy lawn is through proper fertilization at the right time. The same also holds true if you want a lush and healthy lawn in Edmonton, Alberta.
The importance of fertilization in maintaining a vibrant and resilient lawn cannot be underestimated. Fertilization brings with it the following benefits:
Greater resistance to diseases – The provision of essential nutrients like nitrate, potassium and phosphorus to the plants and grass will make certain that they are well protected from illness and are less prone to diseases.
Balanced overall growth – Occasionally, due to lack of nutrients, grass grows lush and healthy in one area but may be thin and sparse in another. This is because the soil may not have nutrients evenly distributed throughout. Fertilization helps in ensuring even growth.
Resistance to pests – Proper fertilization ensures that your lawn grass is thick and healthy, thus making it difficult for pests and insects to take hold.
Safeguards the soil properties – As plants and grass grow, they tend to absorb nutrients from the soil. Lawn fertilization helps to prevent soil runoff. It will also replenish the nutrients, ensuring that your lawn is healthy and lush. Thus, using fertilizers is a great lawn care solution.
Weed Control – The usage of fertilizers helps to prevent the growth of weeds. Well-nourished plants have deep, strong roots and are less likely to be affected by weeds.
Depending on the time of year, specific fertilizer needs to be applied to your lawn for optimal growth throughout the year. Supplementing your lawn with the necessary nutrients is highly efficacious – it helps to promote root growth in spring, strengthen the foliage in summer and prepare for dormancy in winter. Not only is it important to know how often to fertilize lawns and yards for the best results, but it is also vital to know the right time to apply your fertilizer for positive results.
Fertilizers are very expensive, and if used improperly, can damage, and even kill your grass. A little bit of knowledge makes all the difference in keeping your expenses low and your lawn lush.
When to Fertilize Your Lawn in Edmonton: A Seasonal Guide

Understanding Edmonton's Climate and Growing Seasons
Alberta contains several different types of soil throughout the region. Before application of the fertilizer, a soil test may be required to determine which fertilizer will best suit your lawn.
Your fertilizer should be rich in nutrients and complement the type of grass in your yard.
Spring Fertilization
With the onset of spring, it is essential to devote a lot of care and attention to your lawn. Your lawn will need extra care to help it recover from the vagaries of a long, harsh winter in Edmonton. Taking care of your lawn in the spring is important to help to get it back to its lush and vibrant state and in shape for the warmer months ahead.
The best time to start fertilizing is in late spring, in the months between April and May just as the green grass is beginning to grow eagerly. It is better not to do it too early in the season. The reason for this is that in early spring, the grass uses up its energy for root development. If you apply fertilizer too early, it will divert the plant's energy into leaf development too soon.
When cool-season grasses "wake up" in the spring, they enter a natural growth cycle when the roots begin growing and building carbohydrate (energy) reserves. Ideally, wait until the late spring (late May) just before the heat of summer begins and after the grass is thriving before you fertilize the lawn.
Fertilizing your lawn at this point prepares the grass for summer. During the hot summer months, the grass will begin to slow down carbohydrate production and begin to use up the reserves. An application of 3/4 to 1 pound of slow-release nitrogen will allow the grass to rebuild its energy (carbohydrate) reserves and keep off the stresses of summer, such as drought, heat, traffic, disease, and insects. A polymer-coated slow-release fertilizer can feed the grass for up to 12 weeks.
The best spring fertilizer for grass is rich in nitrogen, phosphorus, and potassium, all of which are essential for plant growth. In spring, the best lawn fertilizer is often one with a 20-5-10 mix (20 percent nitrogen, 5 percent phosphate and 10 percent potassium) assuming healthy soil.
Nitrogen-rich fertilizers are appropriate for the early springtime green-up and growth. A slow-release nitrogen fertilizer may be added in June or July as well.
Choose a slow-release fertilizer over short-release products. A slow-release formula will ensure that the lawn receives nutrients over a longer period.
Summer Fertilization
In summer, your lawn is likely to see more traffic than at any other time throughout the year! Fertilizing in the early summer helps strengthen the grass so it can better withstand the heat and drought conditions that summer is famous for.
Warm-season grasses can be fertilized throughout the growing season since they thrive in the heat of the summer. But cool-season grasses struggle to survive during the heat of the summer. Avoid applying fertilizer to the lawn in mid-summer or late summer. A cool-season lawn should need nothing other than water and pest management until September.
Apply fertilizer to high-traffic areas with a 32-0-4 mix. This will feed your lawn throughout the summer, making the grass blades strong and enabling them to recover faster from heat and drought.
Low-nitrogen fertilizer is ideal for summer lawns. This reintroduces nutrients into the soil so that the lawn can maintain healthy growth throughout the summer months. Nitrogen-rich fertilizers can cause further stress to lawns in the summer and even cause burns.
Slow-release fertilizer is one of the best summer fertilizers for grass. This fertilizer is coated with plastic resin or sulphur-based polymers which slowly break down from water, heat, sunlight, and/or soil microbes. Use of slow-release fertilizers reduces the risk of fertilizer burn, while also staying in the soil longer. These fertilizers are often formulated to last one to three months depending upon the amount of water your lawn receives.
Fall Fertilization
The goal of fertilizing lawns in the fall is to help your lawn charge up nutrients and conserve them through the dormant period of winter. Fall fertilizer contains vital nutrients that will help prepare your lawn for winter and bounce back in the spring. In case you do not fertilize your lawn in the fall, your lawn will be more prone to patches of dead grass. This may give weeds the upper hand in spring and make next year's lawn maintenance more difficult.
Choose a granular formula specifically for fall application. An ideal fall lawn fertilizer ratio is 12-25-12 (a high-phosphorus fertilizer). This formula will help your lawn save plenty of energy over the winter to burst back into life in the spring.
Fertilization in the fall in Alberta will make sure that your grasses build up a surplus of carbohydrates in their root systems and stem. To have that happen, the fertilizer needs to be applied when the grass stops growing for the season, but before a hard freeze puts it into dormancy for the winter. If fertilizer is applied too early while grass or garden plants are vigorously growing, it can invite winter injury and snow mould the following spring.
The ideal time to commence fall fertilization in Edmonton is usually around the second week of October and again 6-8 weeks afterwards. Depending on the fertilizer formula you use, you may want to feed the lawn once or twice.
Best Practices for Lawn Fertilization
The following tips may be useful to Edmonton homeowners with respect to fertilizing their lawns:
Test your soil – Do arrange to test your soil either by way of a do-it-yourself kit or hiring an expert. The results of the soil test will help you to identify nutrient deficiencies and pH levels. This will be of use in determining the best way to fertilize your garden.
Be aware of your N, P and K – Read the fertilizer packaging properly to make certain that the fertilizer chosen by you is appropriate for your soil and contains the correct levels of nitrogen (N), phosphorous (P) and potassium (K).
Fertilize at the right time – Avoid fertilizing trees and shrubs in late summer. Flowers and grass have different requirements, depending on your soil type.
Don't overdo it – Too much fertilizer can kill your plants, because of fertilizer burn. The leaves will turn brown and wilt, the roots may rot, and your plants are likely to stop growing.
Usage of spreader – A spreader will ensure an even coating of fertilizer over your lawn. Drop spreaders are for more targeted applications, while broadcast spreaders are good for covering a large area quickly.
Watering – A Day or two before applying fertilizer, water your lawn completely. After the grass dries, apply the fertilizer. Then follow up with light watering again. This is necessary because it washes fertilizer off grass blades and into the soil.
Conclusion
To summarize, if you are living in Edmonton and looking at achieving a lush and beautiful lawn, do keep in mind that it is necessary to time the fertilization of your lawns properly with an eye on the specific lawn's conditions, grass type and the local climatic conditions prevalent in the region. Not only is it important to know how often to fertilize lawns and yards for the best results, but it is also vital to know the right time to apply your fertilizer for positive results. A well-planned lawn fertilization schedule is a major step ahead in achieving a thick, vibrant, and thriving lawn!!
Frequently Asked Questions:
When should I fertilize in Edmonton?
In Edmonton, it is generally recommended to fertilize your lawn in late spring or early summer, around mid-May to June. This timing allows for optimal nutrient uptake and promotes healthy grass growth during the active growing season.
How often should I fertilize in Edmonton?
For most lawns in Edmonton, a general guideline is to fertilize two to three times per year. The first application can be done in late spring, followed by a second application in mid-summer, and a final application in early fall. Adjusting the frequency may be necessary based on the specific needs of your lawn and the type of fertilizer used.
Is it better to fertilize before or after the rains?
Ideally, it is best to fertilize before rain or when rain is expected within the next couple of days. Fertilizing before rain allows the nutrients to be washed into the soil, ensuring they reach the grassroots effectively. However, if rain is not expected, you can still fertilize your lawn as long as you water it immediately afterward to help activate the fertilizer and prevent it from sitting on the grass blades.
How do I get green grass in Alberta?
To get green grass in Alberta, choose grass varieties suited for the climate, water adequately, mow at the right height, fertilize regularly, address weeds and pests, and aerate the lawn annually.
When should I aerate my lawn in Edmonton?
In Edmonton, aerate your lawn once a year during the active growing season, either in spring or fall, to improve soil health, promote oxygen and nutrient uptake, and encourage root growth.