Core Aeration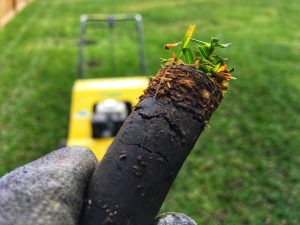 Aeration is commonly combined with spring or fall cleanup. It improves the oxygen level and compaction of the soil system. The soil plugs pulled out of the turf will remain on the lawn and will break down in the weeks after. If requested we can rake them up and dispose at an additional charge.
Aeration is most beneficial with a moist soil. If it's too dry, the soil is too hard for the machine to penetrate the ground. You will also need to have your sprinkler heads flagged prior to this service as they may get damaged when hit.
Our machine has golf course equipment technology! Reciprocating tines provide vertical coring action, punching straight in and out without tearing up the turf, offering hole quality on par with golf course requirements (results may vary under certain conditions).
The machine is sprayed with sterilizing liquid after every yard to reduce risk of cross contamination. Nobody likes Fairy Rings…those mushrooms growing in circles!
What are the benefits of aeration?
Core aeration can help make your lawn healthier and reduce its maintenance requirements through these means:
Improved air exchange between the soil and atmosphere
Enhanced soil water uptake
Improved fertilizer uptake and use
Reduced water runoff and puddling
Stronger turfgrass roots
Reduced soil compaction
Enhanced heat and drought stress tolerance
Improved resiliency and cushioning
Enhanced thatch breakdown
Found all of the information you need?
Then take advantage of our estimate form and we will put together a detailed estimate for you.
Request Estimate