Acreage Yard Maintenance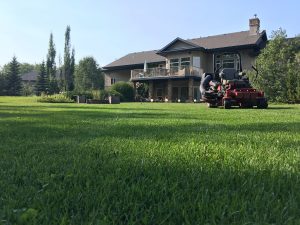 Living on an acreage is a peaceful lifestyle, but it also comes with the responsibility of acreage yard maintenance. With bigger areas to maintain comes the need for bigger and more expensive equipment, which can be a hassle for those who have other commitments. Fortunately, you can hire a professional to help you free up your valuable time so you can do what you love. However, it's important to choose a service provider that understands your specific needs.
No Acreage is Alike in Parkland County
Choosing the right lawn and yard service is crucial when you live on an acreage. Every property is different and has its own unique set of challenges. That's why it's important to find a service provider who understands the specific needs of your acreage and has the experience to handle them.
Rudi, our founder, grew up on an acreage in Germany and knows firsthand what it takes to keep a big property looking its best. He's been living on an acreage just south of Spruce Grove since 2005, which has given him valuable experience in dealing with the challenges that come with owning a large property.
Here at Euro Yard Service, we recognize that no two acreages are the same in Parkland County. That's why we take the time to listen to you and understand your unique requirements. We work closely with you to develop a customized plan that suits your needs and budget, so you can enjoy a beautiful, healthy lawn without having to worry about the details.
Acreage Services We Offer
Spring/Fall Cleanup
Lawn Mowing (recurring and custom term)
Aeration
Power Raking
Leaf Cleanup
Fertilizing
Tree, shrub and hedge service (Prune, Trim, Fell)
Firewood splitting on-site
Currently we do not offer snow removal and weed control for acreages but we are happy to assist finding a reputable service provider.
Due to the nature of the variety of acreage layouts we would love to meet with you on your acreage for an initial consultation. Choose Rudi and his team for your acreage yard maintenance needs and enjoy more time for the things you love.
Found all of the information you need?
Then take advantage of our estimate form and we will put together a detailed estimate for you.
Request Estimate