Lawn Mowing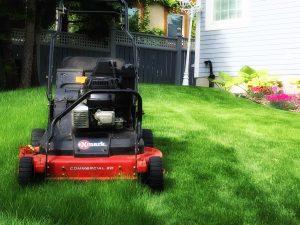 Our weekly lawn mowing service is scheduled weekly from May – September up to 5 times per month, depending on weather and growing conditions and maintained at a height of 2.5 – 3.5 inches.
The final cut in October will be at 2 inches. String trimming is included and done in tight spaces, around trees, obstacles, fences etc to match height of lawn.
Whenever possible we mulch the clippings rather than bagging. That means the grass clippings will be chopped up into tiny particles before falling back onto the lawn. As they break down they will release their nutrients back into the lawn. This is free fertilizer! If bagging is required by conditions or requested by the client, we will leave clippings in an organic waste cart if applicable or in plastic bags and leave on site. Service plans are flatrate based and payable at beginning of each month or term.
Additional Features & Benefits
Clean hard surfaces after every visit
Crisp lawn edges along street curbs, city sidewalks and driveway
Easy, consistent and secure billing process
stunning curb appeal with directional cutting technique
Reliable scheduling with service delay notification
24 hour service notification when required
Well maintained equipment & trained technicians
No surprises…we have a checklist for each property before leaving
Additional services (may result in add on charge)
Excessive trash/cigarette butts pickup
Apples/fruit/pine cone pickup
Pooper scooper (dog waste cleanup)
Lawn clipping bagging and disposal
Fertilizer application (100% organic fertilizer available)
Found all of the information you need?
Then take advantage of our estimate form and we will put together a detailed estimate for you.
Request Estimate