Euro Yard Service helps you enjoy your yard Year-Round in Spruce Grove, Stony Plain, Parkland County & Select Areas of Edmonton
Euro Yard Service is very proud of the personal care we give. We are never finished until we meet your very own highest standards of excellence and your total satisfaction. We strive to give your yard the absolute best professional touch. Your yard is special to us, so you don't see us rushing through our work. Making shortcuts will most likely end up costly for you and us.
Excellence is Our Clients' Standard
Here at Euro Yard Service we provide solutions specifically targeted to our clients' and their yards needs. With the strategic schedule of a custom fitted all-season lawn and landscape maintenance program, we can give you the desired enjoyment of your property all year round. From an unheard-of detailed spring cleanup, regular lawn maintenance in the summer, exceptional leaf and fall cleanup right up to super dependable and meticulous snow removal in the winter. You get the full package of hassle-free, guaranteed, and professional service.
Since 2007 we've helped hundreds of homeowners in Spruce Grove, Edmonton, and Parkland County to enjoy the beauty of their yard. With our team of experts looking after your landscape you can now sit back, relax and appreciate your property. Just imagine the moment you come home from a long day at work and as you pull up to your house you notice the freshly mowed lawn, manicured hedges, or snow clear and down to surface driveway.
Each of our properties we take care of is a direct reflection of our company image and work ethics. If there's trash flying around…we'll pick it up. If there's anything not right…we'll let you know and offer solutions to make it right.
Our Experience and Professionalism is Your Benefit
In more than 15 years of professional experience in the green industry, we have learned to always excel in customer service, communication and work quality. Transparency, up-front agreements, and honesty have been proven to be valued by our clients. With one of the highest and most consistent customer ratings and reviews in Spruce Grove and Edmonton, you can rest assured to only get the best lawn and snow service available for your property. Why would you hire anyone else?
If you're looking for a cheapo, cut and run, inexperienced, no guarantee, won't call you back, doesn't show up when they say they will lawn and snow company we will not be the right fit for you.
If you're looking for clock-work dependability, passionate people caring for your yard, high standard workmanship, secure and convenient payment options, a contractor fully insured for WCB and liability plus business license…we'd love to get in touch with you. Come and enjoy the Euro Yard Service experience!
Try us with no risk! Choose from the following programs:
Meet the President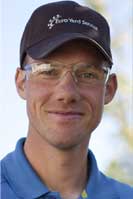 Hi, I'm Rudi Roeder the President of Euro Yard Service. Hopefully this site will make you feel comfortable contacting us. Our mission is to help you enjoy your yard year-round no matter what Mother Nature throws at us.
My Personal 100% Iron-Clad,

RISK FREE

Money-Back GUARANTEE TO YOU!

"I want you to be totally thrilled with our service…so absolutely delighted you will recommend us to your friends and neighbours. Frankly, we want to take care of your property forever. You are the judge, if our work is not excellent, we will re-do the item in question for FREE. If you are still not happy, you will not owe us one dime. There's more…If the item in question is not fixed to your total satisfaction we will pay another company of your choice to fix the issue. Nothing is more important to me than your complete satisfaction."
–Rudi Roeder, Founder Euro Yard Service
Euro Yard Service Wins HomeStars Best of Edmonton 2017 Award
Euro Yard Service has been working in Spruce Grove and Edmonton for several years now, and if we have learned anything at all, it's that customer service is just as important as the expert lawn care, yard maintenance, and snow removal services that we offer. We are pleased to announce the launch of our newly redesigned […]              Read More
6 Pro Tips for the best Lawn Spring Cleanup in Spruce Grove
I'm excited to share 6 Pro Tips for the best Lawn Spring Cleanup in Spruce Grove. The debut of the warm season is always a reason for joy and enthusiasm, especially for home owners who can't wait to show off their beautiful lawn. But in order to get yours into tip top shape for the […]                                                                                                      Read More
What Our Customers Say?
"When we bought our house in the spring time, we had no idea how bad our lawn was going to be. The previous owners had let every type of weed grow everywhere, grass go unmowed, and dead spots go un-repaired. New to lawn care, we had no idea how to even start on such a seemingly insurmountable task. After trying different weed killers and seeding, I decided to call Rudi. He gave me two options on how to best fix my lawn depending on our wants and needs. We decided on the option of topdressing with compost and topseeding.
Then he set to work and within a few short months, our lawn was transformed. I can not believe how good our lawn looks now! He is fast and efficient and his work speaks for itself. I would recommend him to anyone in need of any type of yard maintenance."
– Angela and Trey Das, Edmonton