Hedge & Shrub Trimming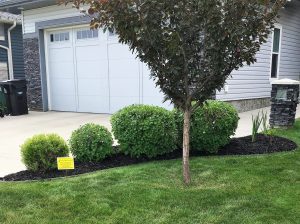 Healthy hedges and shrubs are as important for good looks for your property as a manicured lawn is. However, many homeowners tend to neglect regular hedge and shrub trimming, only realizing its significance once their plants become overgrown or start to show sparse foliage. Even small shrubs require periodic trimming to maintain an aesthetically pleasing shape and promote dense foliage. We understand the importance of well-maintained plants and take great pride in offering trimming services that will leave your yard looking fantastic.
Trimming your plants is not just a necessary chore, but a valuable investment in the overall appeal of your property. Many decorative shrubs and hedges can significantly benefit from a maintenance trim twice a year – once in spring and again in late summer or early fall. Our skilled professionals use professional tools and techniques to ensure your plants receive the best possible care, leaving them healthy and vibrant all year round.
In addition to hedge and shrub trimming services, we also offer removal of entire plants and the removal of dead plant parts, ensuring your yard remains tidy and well-kept.
If you have a Mayday or Chokecherry Tree that has been infected with Black Knot disease, please refer to our Learning Centre. This airborne fungus is very aggressive, unsightly and needs to be cut out every time it appears or the tree might die.
Features & Benefits
Cleanup debris after service
No "hack job"…you tell us how you like it (you look at it every day)
Professional grade tools (cheap tools can cause damage on tree)
Sterilized tools to minimize cross-contamination between plants
Following best practices for trim and prune cuts
7-Day-Guarantee: FREE one-time callback within 7 days of service to fix any issues
Other Available Services
Tree pruning (smaller trees)
Tree felling and disposal (smaller trees)
Stump grinding (subcontracted or referred)
We are not a certified arborist service. For projects out of our scope/capacity we will refer you to an arborist service.
Found all of the information you need?
Then take advantage of our estimate form and we will put together a detailed estimate for you.
Request Estimate