Experience premium service even during the worst winter snow storm! We offer snow removal in Spruce Grove, Stony Plain, and select neighborhoods in West Edmonton.
The Edmonton Journal interviewed Rudi in early 2014 on how to remove ice on sidewalks. Please note we do NOT use rock salt as mistakenly mentioned. Video copyright Edmonton Journal.
Monthly/Vacation Snow Removal Agreement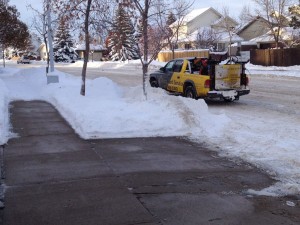 The property is serviced after every snow fall. We do have a "zero inch policy" which means we will come every time your feet leave tracks on a hard surface. Response times are within 0 to 48 hours of a snow event. Monthly charges are based on an equal flat rate per month for assigned services with unlimited visits (one visit per 24 hour period).
Our working hours are within the municipalities noise bylaw whether you're in Spruce Grove, Stony Plain, or Edmonton.
Ice Control and Winter Sidewalks
As of the 2014/2015 season ice control is mandatory due to increasing freezing rain events as well as overall property and public sidewalk safety. We offer all-inclusive packages or charge additionally per application. We highly recommend the all-inclusive package to avoid surprises with invoicing charges.
Two options are offered: one with all-inclusive snow removal and ice control handled by Euro Yard Service, the other where the home owner can contribute to keep possible additional ice control charges low. In very select cases this policy may change with consent of both parties.
Materials used can be ice melt (Yukon Gold, Alaskan Icemelter or Polar Plus), sand (grit) and buckshot (gravel). We also started using liquid calcium chloride. Other brands/applications may be used without notification. Each material has pro's/con's and use is determined by our best knowledge. We are not liable for any surface, plant or other property damage caused by ice control techniques. If needed, a consultation can be requested.
One time snow removal
Should you only need occasional or one time service feel free to contact us and we will fit you into our schedule. One time service prices are determined by a variety of factors such as area to clear, average height of snow accumulation, surface material and other conditions.
In case of leaving packed down snow or tracks we will come back in order to remove it. This will be scheduled at our convenience and schedule. Special request may be charged for.
Residential, Commercial, and Rural areas
We strongly focus on residential service due to equipment and personal preference. However, we will consider taking on small commercial accounts in the future as well. In some cases we may subcontract your property but will guarantee same level of service.
At this point we do NOT provide snow removal for acreages in Parkland County.
If you are still concerned please check our happy client's testimonials, portfolio, or call for more information.