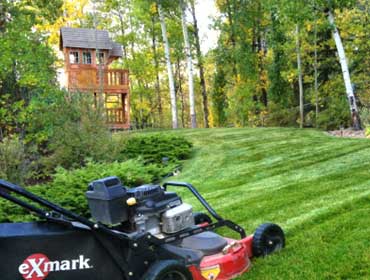 Yard Maintenance
Mulching
Protect your trees and get neat flowerbeds. We can help you giving your property that super clean and neat look everyone envies. You can choose from a wide variety of bark chips or rocks. If you need advise we are there to guide you and give feedback.
Trim Trees, Bushes and Hedges
From taking down smaller trees, minor tree pruning jobs, stump grinding, bush and hedge trimming. By request we can refer to a certified arborist.
Cleaning Eaves troughs/gutters
Are your gutters a smaller cousin of your garden and have little trees growing in them? Even if your downspouts are clogged with gunk, leaves etc. – we will not leave before you know the next rain will be no challenge for your gutters anymore. All you need is a working outside water tap…and we're up for the game.
Garbage Removal (small amounts)
Sometimes we end up having stuff we no longer need or a renter moves out leaving personal belongings behind. Whatever it might be…we would love assisting you getting rid of junk. This is a service on a rather smaller level but we may assist finding someone dealing with bigger projects.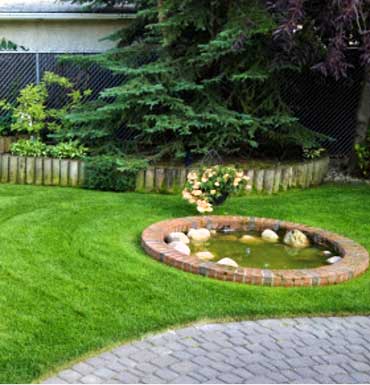 Lawn Care
Lawn Mowing
Whether you need a one time service or regular maintenance for the season, we can accomodate. Whenever appropriate we recommend mulch mowing. The tiny clippings left behind won't be an eye sore but a natural fertilizer instead. It also reduces waste going to the dump. Most common is a weekly service. Custom schedules can be arranged.
Spring/Fall Cleanup
Give your yard a head start with a professional yard cleanup in the spring or fall. Whether it's just a simple leaf cleanup or the full meal deal with power raking, aerating, power lawn edging, and fertilizing…no job is too big or small. And YES, we do sterilize all equipment before we go into the next yard. This way you do not have to worry about pesky fairy rings or any other intruder.
Aeration
Aeration is recommended in late September but commonly combined with a spring cleanup in most cases. It improves the oxygen level and compaction of the soil system. If combined with power raking we will aerate before power raking. The soil plugs will remain on the lawn and will break down quickly. If requested we can rake them up and dispose. Aeration is most beneficial with a moist soil. If it's too dry, the soil is too hard for the cores to penetrate the ground. You will also need to have your sprinkler heads flagged prior to this service.
Power Raking
This application is meant to reduce the thatch in your lawn which is a layer of dead organic material. A thatch layer of up to 0.5 inches is actually needed to keep your lawn in good shape as it will help protecting the grass roots from direct sunlight. The power rake will not reach into every corner of your lawn that's why we handrake those areas with a special dethatching rake. For full benefits the grass should be fairly dry. To protect your sprinkler heads you will be asked to have them marked with flags.
Trimming / Edging
To give your property this cutting edge, crisp look we will power trim all edges and for lawn mowers hard to reach areas if needed. Some lawns tend to overgrow edges of sidewalks or driveways with time. A power edging service will make your property stand out again.
Lawn Renovation/Sodding
Some lawns grow thin after a few years and it's a good idea to topdress and overseed. A compost application just before winter will also help to improve the soil system. These projects may not show instant improvement but will keep your lawn looking healthy over the years. Small complete lawn makeovers with sodding work up to 1,000 sqft. can be arranged. All sod is grown locally.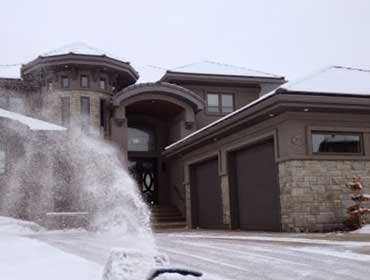 Snow Removal
With a long winter here in Alberta you may want to consider booking our professional snow removal program. This takes the dealing with shoveling and driveway scraping on a cold morning away. No more backbreaking lifting of heavy snow and worrying about who's going to shovel when you're on a vacation or even a short weekend trip. It's nice to have kind neighbors offering you a hand…but you don't want to stress their kindness too much…